The Nathaniel Boileau House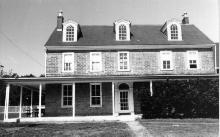 440 S. York Road Hatboro, PA
Nathaniel Boileau was a State Legislator for twelve years. He was Secretary of State and ran for Govenor in 1817. Prior to the Civil War the house was used for the underground railroad. Helping slaves hide and helping them escape to Newtown. The property was purchased by the YMCA in 1963.
Return the Historic Hatboro Main Page
This page is dedicated to the Citizens of Hatboro, past, present, and future.