The Union Library of Hatboro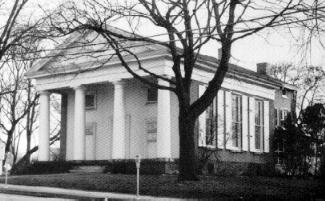 In August of 1755, Joshua Potts, Charles Beatty, John Lukens, and Joseph Hart met with other interested local citizens at the Crooked Billet Tavern. Thirty-eight men signed an "Instrument of Partnership," thus bringing into existence the "Union Library Company of Hatborough." In August of 1756, the first shipment of 59 books arrived from England. Some of the original books are still in the Library's possession. In 1848, Nathan Holt, bequeathed $5,000 to the Library. Two thousand dollars was to be invested and the interest income was used to purchase books. Three thousand dollars was used to purchase land and build a permanent library building. The Greek Revival style building was completed in 1850. The building is listed on the National Register of Historic Places. The Library continues to operate under the original charter, the second oldest in Pennsylvania, and the twelfth oldest in the United States.
To help generate revenues for the Library, a book fair is held in May, and an Annual Bazaar is held in September. Please contact the Library for more information at 215-672-1420.
Library Hours
www.hatborogov.org/community/library

www.pitrone.com
This page is dedicated to the Citizens of Hatboro, past, present, and future.
Copyright © 1990-2014 Pitrone & Associates. All Rights Reserved.